What are mergers and acquisitions?
Merger and acquisition, or M&A, is a process of consolidating organizations or their assets through financial transactions such as mergers, acquisitions, tender offers, consolidations, asset purchases, and management acquisitions.
Although "mergers" and "acquisitions" are often used interchangeably, they differ slightly:
Legally, a merger entails consolidating two businesses into one organization with new management and ownership to generate synergies and remain competitive.

An acquisition implies a takeover of a smaller company by a larger one. As a result, the acquired one ceases to exist as a separate business entity, transferring its assets to a buyer.
Typically, mergers and acquisitions include the following five steps:
Evaluation and a preliminary review. When a buyer is yet to be found, M&A starts with an information memorandum. It contains information (without divulging sensitive documents) that may interest a potential buyer considering M&A.
Negotiations and letter of intent. The negotiation stage can co-occur with due diligence and involves discussing the implications of antitrust and competition laws, labor law considerations, fiscal implications, licensing issues, etc.
Due diligence. The primary objectives of a due diligence study are to identify the principal risks brought by M&A, figure out fair pricing, and strengthen the bargaining position. The procedure may cover legal, fiscal, and financial aspects.
Negotiations and closing the deal. When the due diligence process is complete, the prospective buyer reviews and assesses the findings and their significance to the deal with its advisors. Additionally, this would entail negotiating the ultimate cost and the warranties.
Post-closure integration. At this point, it's typical for the stock purchase or asset purchase agreement to incorporate provisions that take effect following the deal-closing: the parties' further obligations, completion of the transfer of additional assets, etc.
M&A 2023 outlook
Deal-making across international borders fell significantly in 2022 due to Covid-19, trade issues between the U.S. and China, the war in Europe, and regionally different economic situations.
As for 2023, the global volume of transactions amounted to $559 billion, the third-lowest global volume after 2013 and 2020.
Despite global headwinds, key market players such as Maxar, Thoma Bravo, and Johnson & Johnson are in the deal process now or have already entered into M&A in 2023.
What is the M&A data room?
The M&A virtual data room is a secure online repository where you can store all the confidential documents required for mergers and acquisitions, the due diligence process, initial public offering, capital raising, and other complex deals. Unlike the physical data room, this solution streamlines document management for information-heavy deals, making the processes flow faster.
The data room makes it easy to organize important documents and share them with trusted people and clients. This allows businesses to make different processes, like extensive due diligence, faster and ease the burden of collecting and disclosing confidential information.
Best virtual data room providers for M&A
We have selected top products for you to compare virtual data rooms and decide which one will be your strong suit for successful M&A and due diligence processes.
Provider
Key features
Efficiency
iDeals


Rating: 4.8
In-app live chat support 24/7
30-second chat response time
A full audit trail
New activity auto-notifications
8 levels of granular permissions
User interface in 15 languages
Mobile access
Custom branding
Advanced Q&A
In addition to sophisticated security features, iDeals virtual data room offers custom branding, auto-notifications for new activity, and an advanced Q&A module.
You can protect all deal documents with 8 levels of user permissions and an ability to track any data room interaction with complete audit logs.
Moreover, the iDeals virtual data room facilitates international cooperation with potential buyers as the platform is available in 15 languages. Finally, iDeals offers industry-leading customer support available 24/7, including weekends and holidays. You can get expert assistance via chat in as little as 30 seconds.
Merrill Datasite


Rating: 4.6
Bulk user invitation
Automation of manual tasks
AI powered redaction
OCR and search in 16 languages
Integrated trackers
Inviting virtual data room users and setting permissions in bulk saves time in complex transactions with multiple parties.
Furthermore, the AI-enhanced Datasite automates file categorization and allows you to find and tag over 100 common data types. Optical character recognition shows search results for any file format and sends you a notification if data matching your search terms are added.
Integrated trackers, in turn, simplify the pre-diligence process since you can share and track to-dos directly from the platform.
Intralinks


Rating: 3.5
File-level encryption
16 user roles
Detailed reporting
Zoom integration
Easy-to-use Q&A
File-level encryption protects confidential data at rest and provides secure document sharing, which is critical for M&A. 16 user roles distribute document access based on authorized users' tasks so data never falls into the wrong hands.
With reporting tools you keep everyone on the same page and share important VDR metrics with the deal team.
Also, the virtual data room provider offers built-in Zoom and Q&A collaboration tools to support seamless communication between participants from any location.
Ansarada


Rating: 4.0
Version control
AI-powered redaction
Deal Workflow tool
AI predictive analytics
Ansarada online data rooms save all versions of deal documents so you can refer back to them if needed. In addition, smart redaction detects patterns across nine languages.
Deal Workflow streamlines setting up checklists and creating workflows to manage multiple processes throughout a deal lifecycle.
Finally, this virtual data room serves as an AI-based analyst predicting the outcome of a deal with 97% accuracy.
Box


Rating: 3.8
Dynamic watermarking
120+ file types preview
Box Skills tool
1400+ integrations
Box virtual data room software offers dynamic watermarks for secure file sharing with buyers and other interested parties.
You can view 120+ file types without additional plugins, which speeds up the due diligence process.
Plus, the Box Skills solution offers AI technologies like speech-to-text transcription, image labeling, and natural language comprehension for uncovering the untapped value from documents.
Finally, Box has the edge over most virtual data rooms regarding partner integrations. It's because the platform includes solutions well mastered by most users, such as DocuSign, O365, Google Docs, Zoom, etc.
Firmex


Rating: 4.3
Digital rights management
View As option
Email In feature
Firmex virtual data room solutions allow you to restrict access to printing, viewing, and saving, apply watermarks, and block sensitive information.
When you set up data room access for a specific person, you can view it through that user's eyes using the View As tool, one of the security measures for ensuring against missteps when setting permissions.
Of particular value for working on the go is Email In, which allows you to upload files from your phone to a virtual data room.
As you can see, the solutions are different and the concept of the best virtual data rooms is rather relative. For example, those who need unparalleled data protection combined with an intuitive interface may opt for the iDeals virtual data room, while users who need tools based on artificial intelligence will prefer Ansarada.
We suggest you check the service prices to narrow down the number of providers suitable for you and try the products by requesting a free trial.
How do VDRs simplify the M&A process?
The biggest advantage of virtual data rooms is that they make tasks, like document sharing, reviewing, and signing online. Here are the specific benefits that virtual data rooms bring to the M&A process:
Improved document organization
M&A transactions require a lot of information to be exchanged between the companies involved. Data rooms help to organize documents using indexing, so it's easy to get your data structured and quickly find anything you need.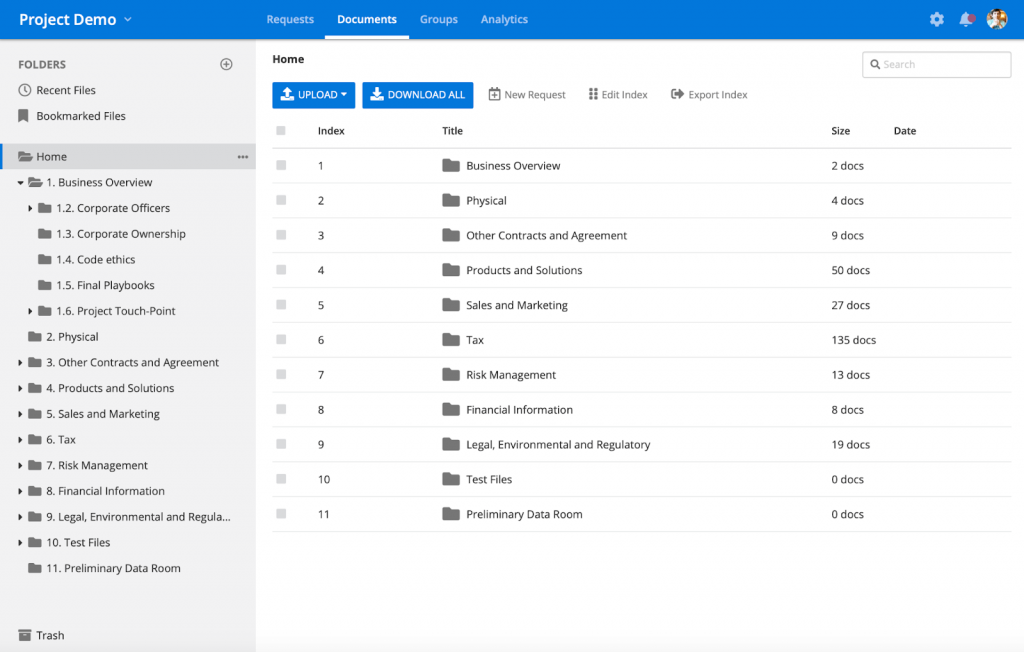 Increased data security
The data rooms are known for being extremely secure and compliant with security regulations such as SOC, GDPR, and HIPAA. They protect your confidential documents and file sharing through a variety of physical and digital security measures: real-time data backup, secured data centers, multi-layered data encryption, user permissions, two-factor authentication, and many more
Extensive data room activity reporting
In VDRs you can also track the document interaction history getting real-time insights. Specifically, you can even see how long a user has been browsing a particular file. Best data rooms offer color-coded reports and a snapshot of group activity in the virtual data room.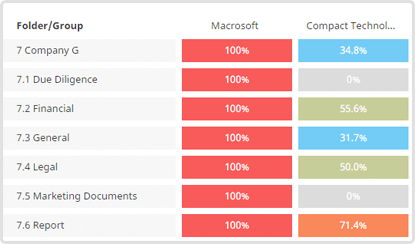 Accelerated deal management process
Using digital tools speeds up the processes. Traditional models require a lot of long meetings, parties traveling to review and sign the documents, etc. The data room saves a lot of time that could be spent on these things. Also, the VDRs enable international M&A deals, as the process doesn't require meeting in person or traveling to another country.
Document security and organization are among the highest priorities for most virtual data rooms. Moreover, with well-made security features and extensive reporting, you no longer need to create additional passwords for sensitive documents and keep track of them individually.
What to include in the online data room for M&A?
Naturally, the set of downloaded documents will differ depending on your company's profile and expectations from the future deal.
Still, let's define the common due diligence documents interested buyers would await in an advanced virtual data room for M&A.
Document categories
Document examples
General corporate documents
– Business licenses
– Business permits
– List of jurisdictions where the company is qualified to operate
– Cap table
– Partnership agreements
– Pro forma statements for the upcoming year
– Voting agreements
– Information about all the other assets (if any)
– Monthly info about financial transactions
– Letters from auditors
– Banking accounts
– Capital leases
– Pricing policies
– Information about previous cooperation with investment bankers (if any)
– Business transactions data
– Full list of current customers and key info about them
– Sales projections and assumptions
– Competitive analysis
– Key review of the main competitors
– Brand books on the existing products
– Summary of product launches
Information about the team
– Full list of employees by position, salary, date of hire
– Onboarding documents
– Intern contracts (if any)Benefits' plans
– Patent trademarks
– Registered copyrights
– Domain name ownership
Information about the suppliers
– Full list of current and previous suppliers and manufacturers with their key info and pricing
– Information about any litigation processes
– Legal disputes
– Confidential documents on insurance
– Data about collaboration with law firms
How to prepare a virtual data room for M&A transactions?
In M&A deals, buyers need to have access to large volumes of documents as part of the due diligence process. These documents are confidential, so they should be stored in a highly secure place. And the virtual data rooms are a perfect option for this.
Here are key steps and tips to structure the virtual data room for M&A transactions:
Draw a schematic plan of the virtual data room before starting the M&A. It's better if you envision how the virtual data room should look before the M&A process begins. The plan should be a rough draft, which will help you to operate faster and force you to think in advance about the needed sensitive data for the process.

You can draw this plan using small squares that represent the major files and under those squares write down the files that should be added straight away.

Assign access to the relevant people. Make sure you give document access to certain documents only to the relevant people. This will minimize data leak risks inside and outside of the company. This will also help hasten the operations, as more people are involved in the process.

Create a systemized filing system. A well-organized filing system will help you save a lot of time looking for the right document when needed. It's recommended to create the master file with the documents that will be required by almost all buyers. These include the standard NDA, financial sheet, and the non-confidential teaser.

Add relevant and up-to-date documents. You need to update documents in the data room regularly. Outdated documents are not valuable for the M&A process.

Try to continuously engage with the virtual data room. Regularly engaging with the data room helps you to structure the data room in such a way that it works well for the company's process. By using the data room, your team doesn't need to have data-heavy files, which can also prevent data breaches.
When all the documents are in one place for due diligence, the chances of document duplication are low and the due diligence process gets faster.
Challenges of virtual data rooms for M&A usage
Though virtual data rooms offer all the required tools for a successful M&A transaction, certain issues may arise when creating a virtual data room VDR.
Incomplete or unsigned documents. This problem is common both in traditional data rooms and virtual data rooms. If some of the documents required for potential financial transactions are not completed, the deal will be postponed. That's why double-checking is recommended for seamless collaboration.
Data overload. Virtual data rooms for mergers and acquisitions usually offer generous cloud storage. But it doesn't mean uploading files without limits. Having too many irrelevant documents in your virtual data room M&A will inevitably slow down the whole M&A due diligence process.
Improper permissions. Traditional data rooms provide all the tools that allow the administrator to take full control of access rights. But unlike with physical data rooms, it's easy to make a mistake. Carefully set up permissions so that all interested parties have access only to the documents they require.
Conclusion
Despite the downward trend, mergers and acquisitions are still important in the international business arena. So, if you are on the M&A threshold but have concerns about global recession and instability, minimizing any risks to succeed is more important than ever.
Fortunately, now you know about a reliable tool that helps you organize the procedure neatly and run it smoothly with pleasure for you and potential buyers — virtual data rooms. All you need to take off is to choose the best data rooms.
FAQ
What is an M&A virtual data room?
M&A virtual data room is a secure platform for document storage used as the best solution for protecting, viewing, and sharing data during a transaction.
What should be included in an M&A data room?
Typically, a virtual data room includes general corporate documents, financials, marketing materials, information about the team, intellectual property, information about the suppliers, and legal data.
What are the steps in M&A?
The steps in M&A are as follows: evaluation and a preliminary review, negotiations and letter of intent, due diligence, closing the deal, and post-closure integration.
What makes the M&A deal successful?
The concept of synergy makes an M&A transaction successful. In other words, the value of the newly formed company must exceed the value of each party involved (as a separate entity).
What industry has the most M&A deals?
Financial institutions, healthcare, technology, and retail traders have the most M&A deals.