About Intralinks
Intralinks is a global technology provider founded in the USA in 1996. It now has 25 offices in 19 countries across the globe and is trusted by 4 million users from the world's leading corporations.
The Intralinks data room allows companies to securely share and manage sensitive documents. It also enables effective cooperation across corporate and geographical boundaries. Organizations choose Intralinks secure collaboration platform for:
M&A processes. Navigate the entire M&A deal lifecycle. From the preparation stage through due diligence and to a successful close.
Banking. Lending, debt transactions, retail, and private banking are possible with Intralinks virtual data room.
Alternative investments. The platform also provides solutions for capital raising, investor onboarding, fund administration, and portfolio monitoring.
The company delivers services to over 4 million customers. It has offices in 15 countries in Latin America, North America, Asia Pacific, Europe, the Middle East, and Africa.
New and potential users can't test out the platform for free, as there's no free trial period. But they're encouraged to schedule a demo to get familiar with the product and services.
Media Gallery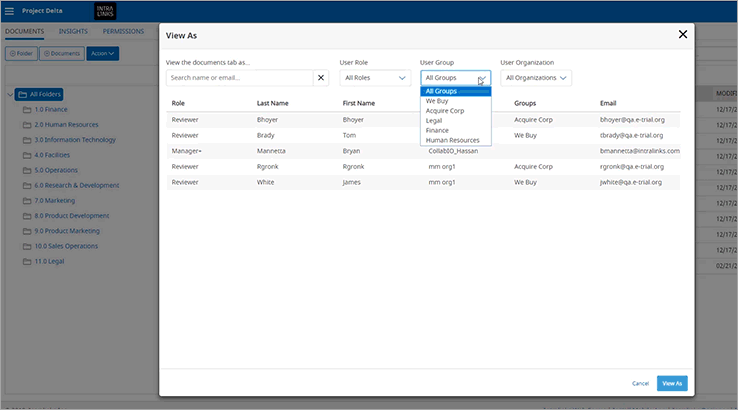 Best for
Startups, small and medium-sized businesses, as well as large enterprises can become the platform's users. Additionally, there's a wide variety of industries to which Intralinks provides its services. Among them are:
Energy (oil, gas, renewables)
High-tech, media, and telecom
Law firms
Life sciences.
Moreover, the Intralinks secure platform provides tools for the following cases:
Bankruptcy. Managing a bankruptcy is complex, challenging, and involves many parties. But Intralinks tools are able to accelerate the process, making it easier to coordinate.
Licensing. Obtaining a license for more growth opportunities is easy because of the controls you get for managing and distributing critical information.
Restructuring. Intralinks helps companies to securely share files and collaborate more productively so that they can restructure their businesses faster.
Business development. Accelerate your deals with automated workflows, make a due diligence process transparent, and track all business processes quickly and accurately.
Board reporting. Board members can be productive anytime and anywhere due to a convenient board reporting solution.
Intralinks ros and cons
Find out the advantages and disadvantages of the Intralinks services:
Pros
Convenient tools for file sync
Collaborative workspaces
Around-the-clock international and local support
User-friendly interface
Digital watermarking
Advanced user permissions
Simple onboarding
Group, user, and document activity tracking
Secure mobile access
Cons
Hidden costs
No trial period
Software isn't intuitive enough for beginners
Automatic numbering doesn't work properly
Pricing and tariff plans
Potential users are advised to contact a sales team for information about products and their cost. The thing is, Intralinks pricing is calculated individually for each client. The procedure is the following:
Fill out the form. Mention what company you work for, your job level, and what you need a deal room and workspaces for.
Get a quote. Receive a customized solution with a tariff plan that fits your needs and budget.
Get a product demo. See how the Intralinks dealspace functions and how it can help you achieve your goals.
According to user reviews, the cost of the Intralinks VDR solutions starts at $25 per month per user on an annual contract.
Deployment and support
Intralinks solution allows companies to use their services on any device, anywhere, and anytime. To securely share and manage files on your computer, you should have either Mac OS X 10.10 or above or Windows 10 (32-bit or 64-bit). Additionally, to view IRM-protected documents, install Adobe Reader 10 or greater.
The collaboration platform also provides tools for mobile and tablet users on both Android and iPhone. Files are protected because of a number of security precautions: the ability to prevent screenshots, protection against unauthorized access by other apps, and Face ID authentication.
In case you have problems with platform usage, contact Intralinks customer service. It's available around the clock, 365 days a year, in 140 languages. Get expert help via:
Email
Phone (visit the Contact us page if you're looking for local numbers)
Chat (log into your Intralinks account to reach out to Chat Support)
Intralinks systems and applications status dashboard.
Security measures
Users can share and manage sensitive documents without worrying about hacks and leaks. This is possible because the Intralinks secure platform provides features that encrypt and protect data at rest, in-transit, and in-use.
The company's security model includes data sovereignty, governance, and compliance. There are also four security levels:
Document. Dynamic watermarking and unique data-encryption keys prevent data leakage, eliminate risky file sharing, and ensure secure collaboration.
Application. The main features are multi-factor identification and channel-driven single sign-on.
Platform. Platform-level security helps businesses control storage architecture to comply with general data protection regulations.
Operations. Intralinks takes care of 24/7 facility security, intrusion detection, and employee background checks.
Additionally, the company holds numerous industry-specific certifications, including SO/IEC 20000-1, ISO-27701, EU-US Privacy Shield, TISAX, SOX, GLBA, FISMA, FINRA, and MAR.