About the Box VDR
Box cloud storage is a digital solution created to simplify the deal management process, which often includes due diligence, contract negotiations, and data processing. Founded in 2005 in the USA with a mission to make collaboration secure for businesses. Over the years, the company has grown into an international company with over a dozen offices in 14 cities across the globe, including Germany, Netherlands, Sweden, Australia, Japan, etc.
Box software is customized to the needs of organizations struggling to work effectively together. It has both basic and advanced features, among which are:
Data storage. Box is a secure storage space for all company files, documents, presentations, etc.
File sharing. Share documents effortlessly and securely — drag and drop files into folders and send the links to business partners and administrates.
Task assigning. Admins can create workflows in minutes and have work done faster using the workflow automation features.
E-signature. Send unlimited documents for signature and close deals straightaway.
Integrations with apps. Connects to user's favorite apps like Zoom, Outlook, and Google Docs. There are also 1,500+ tools and mobile applications that can be seamlessly integrated with Box.
User permissions setting. Control access to confidential files, share public links, and configure who can view or edit documents.
Media Gallery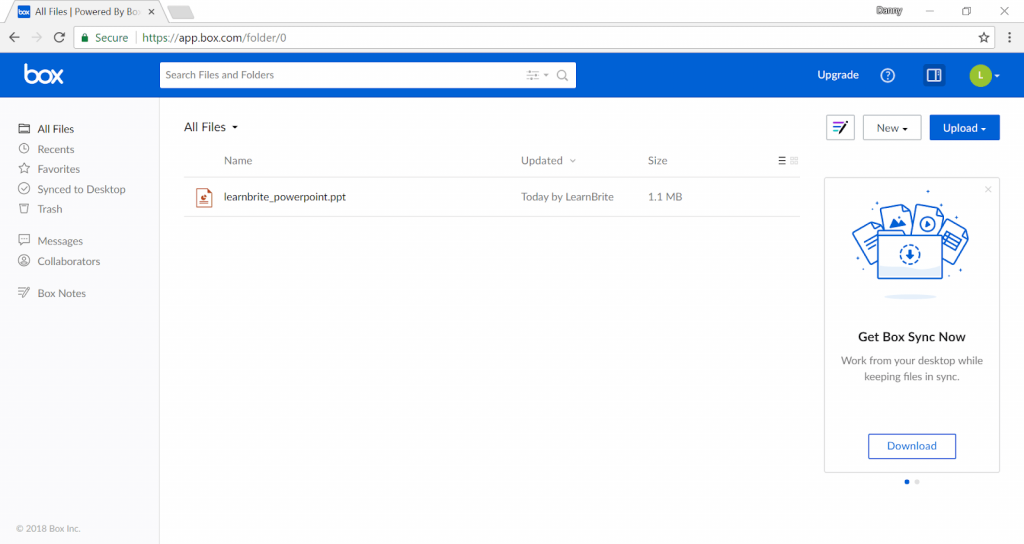 Best for
From startups and small businesses to large enterprises and multi-location franchises, Box is a suitable solution for anyone interested in secure collaboration and simplified workflows. The main industries taking advantage of the deal room are:
Finance
Life sciences
Healthcare
Government
Retail
Media and entertainment
Education
Construction
Nonprofit
There's a 14-day free trial for potential users to test all necessary features needed for their company's success. They can also watch a free demo on any Box products and services to see them in action.
Pros and сons of Box
Find out what users like and dislike about the Box virtual data room solution below.
Pros
Effortless content management
Multiple files upload
Simplified processes for sharing files
A user-friendly platform with an intuitive interface
Unlimited storage capacity
Flexible pricing
Customer support during local business hours
Strong user authentication
Customizable document watermarks
Platform access on a mobile device
User activity tracking
Free trial with all basic features
Cons
Long upload time for large files
No premier support 
Limited offline capability
Complex setup process, especially challenging for less tech-savvy users
Problematic files search
Box pricing and tariff plans
Box offers four tariff plans for businesses. The price depends on whether users need additional features like watermarking or password policy enforcement or whether basic solutions are enough for your organization. There's a fixed monthly payment per user, but companies can purchase an annual subscription to save 25%.
| | | | | | |
| --- | --- | --- | --- | --- | --- |
| | Business Starter | Business | Business Plus | Enterprise | Enterprise Plus |
| Box pricing per user/month | €6 | €18 | €30 | €42 | Custom |
| Storage | 100 GB | Unlimited | Unlimited | Unlimited | Unlimited |
| File upload limit | 2 GB | 5 GB | 15 GB | 50 GB | 150 GB |
| Enterprise app integrations | N/A | 1 | 10 | Unlimited | Unlimited |
| Data loss protection | N/A | ✓ | ✓ | ✓ | ✓ |
| User activity tracking | N/A | N/A | ✓ | ✓ | ✓ |
| Dynamic watermarking | N/A | N/A | N/A | ✓ | ✓ |
| Integrations | N/A | N/A | N/A | ✓ | ✓ |
It's worth noting that there are two alternatives for individuals if they are the only platform user:
| | | |
| --- | --- | --- |
| | Individual | Personal Pro |
| Pricing per month/single user | Free | €12 |
| Storage | Up to 10 GB | Up to 100 GB |
| File upload limit | 250 MB | 5 GB |
Deployment and support
A Box data room is accessible as a web based program and compatible with most browsers, including Chrome, Internet Explorer, Firefox, Microsoft Edge, and Safari. It's also adaptable to mobile devices, tablets, and desktop versions. Thus, users can share files securely and maintain effective document management anywhere and anytime. The options users have are:
Box Drive for Mac and Windows for accessing files directly from a desktop.
Box Tools for Mac and Windows creating and editing any file type from a web browser.
Box Mobile for iPhone, iPad, and Android to find and manage content.
Users are encouraged to keep the Box software updated on their computer, mobile, and browser for access to all tools and the best service. If issues should arise, there's a support team to help solve problems. You can receive standard support during local business hours by submitting a request.
Box support also has a knowledge base containing answers to all frequently asked questions. Their search function helps narrow your issue. Additionally, there are educational videos, product guides, helpful articles, and courses teaching beginners and admins how to start using Box tools effectively.
Security measures
Modern technologies and AI make the Box file sharing platform a secure place to store a company's critical data. This is possible because of:
Encryption keys. Every time you upload files, they are encrypted by AES 256-bit encryption at rest and in transit.
Vector-based watermarking. Enabling watermarking alerts admins when someone tries to leak or share a file without permission.
Security compliance. Box has all necessary certifications, including GDPR, GxP Validation, HIPAA, ITAR, PCI DSS, ISMAP, and FedRAMP to secure highly sensitive data.
Intelligent data leak prevention. Box data room offers AI-powered tools to automatically prevent data loss and detect possible data theft.
Secure access. It's assured by suspicious user activity alerts, strong user authentication, and identity lifecycle management.
The tools mentioned above help reduce reputational and financial risks without slowing down your business. They also improve employee awareness of security policies, which leads to increased overall accountability.