According to Harvard Business Review, from 70% to 90% of acquisitions fail, and often inadequate due diligence is the reason.
Due diligence is an essential process in M&A deals that involves a thorough investigation of the target company's financial, legal, and operational performance. It helps the acquiring company to identify potential risks, liabilities, and opportunities associated with the target company, make an informed decision, and negotiate better terms.
To arrange the process of due diligence, the "seller" company creates a data room for due diligence that allows the "buyers" to evaluate important sensitive documents and proceed with the deal. With virtual data room services, the companies can arrange a transparent, secure, and cost-efficient document review, convenient for all participants regardless of location.
Read more about a due diligence data room and the benefits it brings below.
What is a due diligence data room?
The best virtual data rooms for due diligence
Must have features of a due diligence data room
Due diligence data room checklist
How to prepare a virtual data room for due diligence?
Why do businesses use VDR for due diligence?
What is a due diligence data room?
The due diligence data room is a secure environment where all the confidential information like contracts, tax history, employee details, and other corporate records are filed to enable the buyers' due diligence teams to evaluate the target company.
The due diligence process is basically a process of reviewing, investigating, auditing, and verifying facts about a particular company. The stages of the due diligence process might look different depending on the target company's size and deal's type.
Before virtual data room solutions, there were physical data rooms (or traditional data rooms). However, virtual data rooms have proved to be effective for carrying out due diligence in a fast and secure manner. Hence, they have gained much preference over physical data rooms in the 21st century. The key advantages of a virtual data room compared to traditional data rooms include ultimate security layers for protecting confidential information shared in the process and accessibility regardless of location.
Besides mergers and acquisitions, virtual data rooms have proved their efficiency in numerous business areas, including:
Fundraising
Real estate
Legal proceedings
Board communications
Clinical trials
Banking and financial services
Intellectual property
Government
Basically, virtual data rooms fit any area where confidential documents have to be accessed and processed securely. The required documents are determined by the nature of the transaction. Commonly, due diligence virtual data rooms may contain the following document categories:
Financial statements and tax returns
Contracts and agreements
Employment and HR records
Insurance policies
Regulatory and legal compliance documents
Customer and supplier contracts
Real estate and environmental records
Marketing and sales materials
Board and shareholder meeting minutes.
Overall, the due diligence data room helps companies make informed decisions on the risks, costs, and benefits of making a critical financial deal, such as an M&A and IPO.
Virtual Data Rooms: The Best Providers in Canada
The best virtual data rooms for due diligence
Virtual data room software capabilities vary in functionality, which defines the areas of its use. The table below reveals the top five due diligence data room providers, focusing on their key features and areas of expertise.
Provider
Key features
Areas of due diligence expertise
iDeals
User-friendly interface
2-factor authentication
Watermarking
Custom permissions
Activity tracking
AI-powered document management and indexing
Customizable branding and reporting
Multiple languages
24/7 customer support
✅ M&A
✅ Human Resources
✅ Asset
✅ Customer/Sales
✅ Real estate
✅ Fundraising
✅ Financial
✅ Legal
✅ Intellectual
✅ Tax
Merrill Datasite
Advanced search capabilities
Custom permissions
Multi-factor authentication
Q&A module
Activity tracking
Full-text indexing
Mobile app support
Multiple languages
24/7 customer support
✅ M&A
❌ Human Resources
✅ Asset
✅ Customer/Sales
✅ Real estate
✅ Fundraising
✅ Financial
✅ Legal
✅ Intellectual
✅ Tax
Intralinks
Collaborative workspace
AI-powered workflow automation
User activity tracking
Customizable branding
Bulk upload and download
Mobile app support
Multi-factor authentication
24/7 customer support
✅ M&A
❌ Human Resources
✅ Asset
✅ Customer/Sales
❌ Real estate
✅ Fundraising
✅ Financial
✅ Legal
✅ Intellectual
✅ Tax
Firmex
Advanced reporting and analytics
User-friendly interface
Drag-and-drop document upload
Full-text search
Customizable permissions
Granular watermarking
Mobile app support
24/7 customer support
✅ M&A
❌ Human Resources
✅ Asset
✅ Customer/Sales
❌ Real estate
✅ Fundraising
✅ Financial
✅ Legal
✅ Intellectual
✅ Tax
Ansarada
AI-powered document indexing
Q&A module
User activity tracking
Customizable permissions
Multi-factor authentication
Detailed reporting and analytics
Mobile app support
24/7 customer support
✅ M&A
❌ Human Resources
✅ Asset
✅ Customer/Sales
❌ Real estate
✅ Fundraising
✅ Financial
✅ Legal
❌ Intellectual
❌ Tax
Must have features of a due diligence data room
Virtual data rooms have all the features to make the due diligence procedure straightforward and efficient. Among the key features of a virtual data room are the following:
User activity management
Granular access control
Dynamic watermarking
Secure printing
Conversion to PDF
Third-party integrations
Q&A session
Expiry date
Now, let's review in more detail what each feature is all about.
User activity management
During a due diligence procedure, the due diligence team checks dozens of files, making it nearly impossible to track all the documents viewed in case of using physical data rooms. The virtual data room allows proper reporting and tracking features to log how the documents are accessed and processed. Some of the most common features include:
Full audit trails
Color coded reports
Group overview reports
Where different due diligence teams are simultaneously using a virtual data room, the system can track how each team interacts with documents. This way, the seller gets an overall idea of each buyer's main interest and can follow up on promising targets.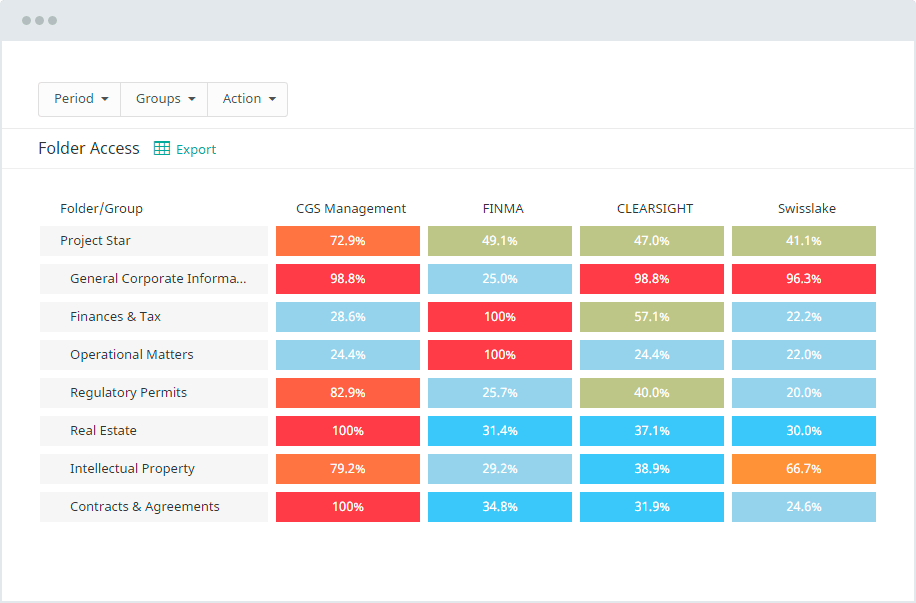 The virtual due diligence data room prevents unauthorized data sharing by authorized persons. With audit logs, you can detect who viewed, edited, copied, or exported a file. It helps eliminate risks of data misuse or loss.
Read more about user management features in a virtual data room.
Granular access control
The virtual data room allows you to control access to confidential documents. Since the due diligence team consists of professionals with different areas of expertise, they are given access to documents that concern only their roles in the process. This function helps maintain the documents' confidentiality and prevent unauthorized viewing. Some of the most common access permissions include:
View
Download encrypted PDF
Print
Download PDF
Upload
Also, a due diligence virtual data room allows multi-layered authentication to ensure each user's identity. It helps verify a user's legitimacy before accessing files and ensures maximum security.
Dynamic watermarking
This feature in a virtual data room helps keep documents secure and reduces the risks of leaks. Some of the watermarks are customizable and serve to prevent documents from being perused. It embeds information like who is viewing, the location, and the time the document was viewed. It discourages unauthorized viewing and downloading and allows a source to be traced easily if confidentiality is breached.
Secure printing
There might be a need to grant a user access to print some of the documents. Secure printing right from a due diligence data room allows a client to easily print documents without converting them into PDF. It also eliminates saving documents outside the data room, where unauthorized users could easily access it. This virtual data room feature helps eliminate any intentional or unintentional data breaches.
Conversion to PDF
This data room function allows for bulk uploads and conversion of documents to PDF format for easy viewing. This ensures that all documents remain in their original state while the due diligence team interacts with them. It further makes it easy to track any changes made to the documents.
Third-party integrations
Virtual data rooms seamlessly sync with other web-based platforms important for the process of due diligence, including team-management platforms like Slack. It simplifies and accelerates the process, minimizing the need to download documents outside the data room.
Q&A section
The Q&A section allows for an interaction process during due diligence, where the team can ask questions about certain documents and get clarified in real time. While in a physical data room, the parties have to meet on-site, spending their time and effort. With virtual data rooms, this process is performed online.
The Q&A section feature allows the team to interact while referencing the documents in question. It enables notification alerts for questions to be immediately attended to, allowing for a smooth communication process. The screenshot below shows how the Q&A module can look like in a virtual data room.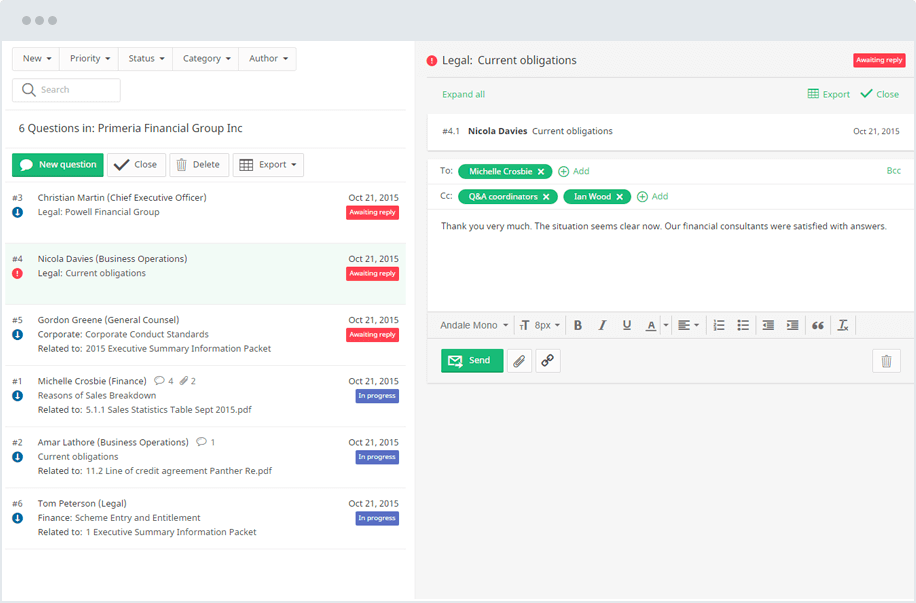 The team can make better decisions based on the productive collaboration, having in-depth information supplied almost immediately when needed. It makes it easier to spot buyers who are truly interested in the deal based on their depth of interaction with the provided files and helps successfully close the deal.
Expiry date
Each due diligence process is arranged in a specific time frame. It determines how long a user can access the documents stored in a virtual data room. The system allows you to effect an expiry date when access to the data room will be terminated. It can be done remotely after a determined period expires, or it could as well be set automatically before granting the user access.
It helps you stay in charge of the entire due diligence process, even when most of it is done virtually.
Due diligence data room checklist
The due diligence process can be overwhelming if not duly prepared. That's why choosing the suitable due diligence data room software and arranging all the required documentation properly beforehand are important. It can be a daunting task for a physical data room to maintain control over documentation. However, for a virtual data room, the documents can be prepared and stored for future use. When the need for due diligence arises, all that would be left is to select the required document folders for that particular deal.
Having your due diligence data room prepared in advance is helpful so that all procedures can begin seamlessly without causing any rush and costly oversights. The due diligence checklist will help prepare comprehensive document storage for acquirers or investors when needed.
The table below provides an example of document types you might need in your due diligence checklist:
Document categories
Documents role in due diligence
Business information documents
These documents provide a detailed overview of the company's history, financial statements, legal agreements, business transactions, shareholder details, management structure, and other critical factors that can impact the transaction's success.
Financial information documents.
Financial documents help assess how the business has fared financially. In virtual data rooms for due diligence, a seller should provide profit and loss statements, forecasts and plans, loan agreements, internal and external auditor's reports, ledger, and trial balance for at least two fiscal years.
Revenue information documents
These documents describe the company's revenue streams. For instance, a seller needs to include the last year's revenue reports, cash flow statements, contract and billing details, sales force and structure of compensation, annual customer lists, and pipeline documents.
Human resources (HR) documents
These imply employee resumes, staffing structure, training programs, policies of leaves, holidays, and overtime, health and safety policy, appraisal policies, and other HR documents that help understand the employee culture and assess human resources value in the target organization.
This document category in data rooms represents the money owed to a company by its customers or clients for goods or services provided. It should include accounts receivable aging reports, sales orders, payment history, bad debt reserves, customer credit reports, etc.
Intellectual property (IP) documents
You should list all IP documents in your due diligence data room, carefully itemizing them for reviewers. The scope includes trademarks, brand names, logos, patents, valuation statements, proprietary technology owned, innovations and designs, domain names, etc.
Reviewing legal documentation in the data room helps confirm the validity of potential investments and reveal potential legal issues. Ensure to include loan agreements, lease agreements, legal cases, vendor agreements, power of attorney, warranties, and guarantees, etc.
The list of document types to be included in data rooms may vary depending on the transaction nature and specifics of the target company. Ensure the provided scope of information is enough to evaluate the operational performance and financial and legal state of the target organization.
How to prepare a virtual data room for due diligence?
By following the guideline below, preparing a data room for due diligence will be easy.
1. Find the right data room provider
You should evaluate the features and functionality of the virtual data room providers. Choose a data room provider that offers robust features for user control, security, intuitiveness, and document tracking, among others.
2. Determine what stage of the due diligence process you are
Data rooms could be set up as a teaser for investors before the actual due diligence process begins and confidential information is shared.
3. Follow a file structure using proper file-naming systems
Ensure the data is properly organized and ordered, following the existing file naming conventions. When you name all the files and folders correctly, they're easier to find then. This is because modern data room providers offer advanced data management features such as full-text search that help in document search and processing.
4. Group top-tier folders
Group files in primary folders according to their importance to the business operation. Start with the top-tier folders, which should be as few as possible. Then arrange subfolders, detailing different document categories and grouping files according to their similarity.
5. Index files in a data room
It acts like a virtual table of contents where all the files are structured and numbered. The automatic index numbering feature allows a user to find required documents easily. The indexing feature in a virtual data room also ensures automatic folder structure creation and alphabetical ordering of all folders and files.
6. Consider security
Determine the access rules and granular user permissions for all users of your data rooms. Ensure your data room software matches all the security compliance rules and features robust data protection features like group permissions settings, data encryption, watermarking, multifactor authentication, and activity tracking to avoid leaking confidential data.
7. Add stakeholders
Add all stakeholders to the data room and group them appropriately. Consider the analysts to be onboarded on both sides of a deal. Grant them the necessary access permissions, effecting controls like edit and no-download, among others. A virtual data room ensures each stakeholder will have the proper access rights to fulfill their specific role in the process.
8. Run internal due diligence
It's common to find that some documents were missed while prepping data rooms. That's why you should get some trusted team members to test the VDR beforehand. Running internal due diligence would help you locate slips and omissions.
Why do businesses use VDR for due diligence?
Using a virtual data room for due diligence significantly improves the mergers and acquisitions process. You probably might have wondered why using VDR for conducting due diligence is so pivotal? Here are some of the reasons:
Accessibility. Virtual data room software allows accessing documents from anywhere, at any time, regardless of region and time zone. And with a dedicated mobile application in place, data room access is even more seamless.
Security. Encryption, access control, in-built redaction, watermarking, fence view and activity tracking ensure the confidentiality and integrity of sensitive information.
Collaboration Virtual data rooms facilitate collaborative due diligence when multiple parties review documents simultaneously, reducing back-and-forth communication and on-site meetings. This is possible with the help of such features as Q&A sections and the ability to leave comments and assign tasks.
Document management. With the help of such features as drag-n-drop and bulk upload, automatic index numbering, and full-text search, a virtual data room ensures that it is easy to locate and review relevant information efficiently.
Cost reduction. Modern data room providers offer flexible payment options, which help optimize expenses on arranging due diligence. Typically, virtual data rooms offer several subscription plans depending on the project type or company size.
When choosing between a physical space of a traditional data room and online data rooms for due diligence, deal makers prioritize the process's convenience, data security, and efficiency.
Conclusion
Deal-makers use virtual data rooms to arrange the document review process during the due diligence. The virtual data room that's used specifically for the due diligence progress purposes is considered a due diligence data room.
Among the top VDR features that make due diligence straightforward and effective are user activity management tools, granular access control, dynamic watermarking, secure printing, conversion to PDF, third-party integrations, Q&A section, and expiry date.
When preparing a data room for due diligence it's important to choose the right provider, determine your requirements, follow a specific file-naming system, group and index files logically, pay special attention to security, and run internal due diligence before adding stakeholders.
To make sure you add all the essential documents, follow the due diligence checklist. The best data rooms on the market usually offer a due diligence checklist template which significantly simplifies the preparation.
FAQ
What is a due diligence data room?
It is a secure online platform used for storing and sharing sensitive data required for the process of due diligence in a business transaction.
Who typically uses a due diligence data room?
Due diligence data room is typically used by multiple parties involved in mergers and acquisitions, private equity transactions, fundraising, and other business transactions. Companies, investors, law firms, and other parties review all the data required to evaluate the target asset's state.
How secure are due diligence data rooms?
Robust technology advances like 2-factor authentication, custom permissions, access management, data encryption, watermarking, activity logging, and other security measures ensure that only authorized users can access and use due diligence documents.
Can multiple parties access the same due diligence data room?
Yes, unlike physical storage, online data rooms can be accessed by multiple parties, each with custom access permissions and controls to view and download important documents.
How long are documents typically stored in a data room?
The time to store and share confidential documents depends on the type of financial transactions the data room is used for and the agreement between the parties involved. Usually, the documents are available for the duration of the process of due diligence and any subsequent negotiations.