About the Ansarada VDR
Ansarada is a publicly-traded Australian company. This company develops and provides many solutions to maintain and safeguard essential documentation during deal preparation, transaction management, procurements, compliances, and more.
The Ansarada VDR (virtual data room) is one of the most popular products for managing these processes. It is available for a 14-day free trial for potential subscribers.
However, they offer plenty of additional solutions. For instance, AiDA (Ansarada Intelligent Data Assistant) is a product that uses machine learning to provide insights based on client activity.
Another exciting solution available for all Ansarada data room users is AI Bidder Engagement Score. It predicts the probability of every possible offer from a bidder.
Media Gallery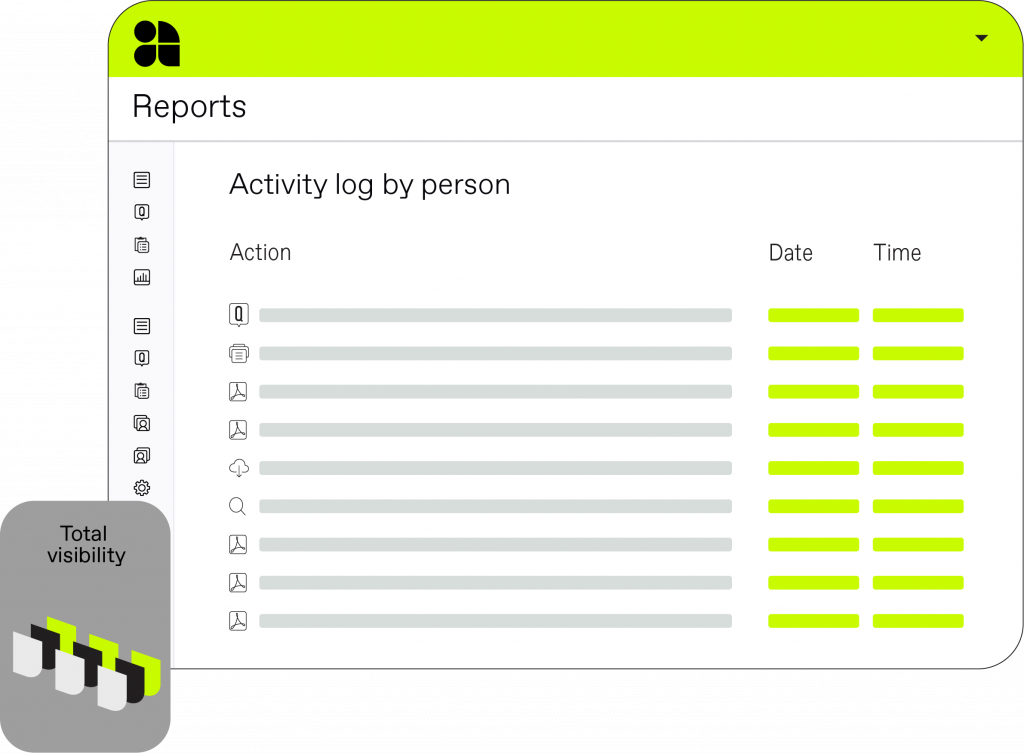 Best for
Ansarada provides excellent solutions for law firms, banks, accountancy firms, and governments. For example, they might be used in the following industries:
Healthcare
Technology
Consumer retail
Utilities and infrastructure
Mining
Oil and gas
Financial services
Real estate
Energy and industrials
Ansarada provides a set of flexible plans, and as a result, every startup, small, medium, or large business might benefit from their solutions. The range of plans varies from 250 MB up to unlimited storage.
Pros and cons of Ansarada
Pros
User-friendly, clean interface
Ability to manage multiple data parties
Advanced features like automatic audit manager and market engagement analyzer
Access restrictions for individual users and groups
Great customer service
Ongoing 24/7 support
Cons
More expensive pricing compared to its competitors
Minimal "Track investor" ability
Large files are difficult to manage and upload
The price model changes often
The process of report development often changes dramatically
Pricing and tariff plans
The monthly pricing of the Ansarada virtual data room depends on how much data storage users need and the duration of their subscription.
Here is a table with the latest prices:
| | | | | | |
| --- | --- | --- | --- | --- | --- |
| Data/Months | 250 MB | 1GB | 2GB | 4 GB | More than 4 GB |
| 1 month | 499 AUD | 1299 AUD | 1799 AUD | 2499 AUD | Contact for custom pricing |
| 3 months | 424 AUD/month | 1014 AUD/month | 1529 AUD/month | 2124 AUD/month | Contact for custom pricing |
| 6 months | 374 AUD/month | 974 AUD/month | 1349 AUD/month | 1874 AUD/month | Contact for custom pricing |
| 12 months | 299 AUD/month | 779 AUD/month | 1079 AUD/month | 1499 AUD/month | Contact for custom pricing |
*Important:vdeal advisors and companies have slightly different terms of services and pricing structures. Contact a sales representative for details.
Deployment and support
Ansarada's virtual data room is ideal for investment banking, private equity, and various other kinds of businesses via an internet browser. Moreover, Ansarada VDRs are fully optimized and functional for every operating browser, operational system, and mobile device.
Customers have 24/7 support service available. Additionally, an extended library with various articles, videos, and answers to user questions is available for free.
Customer support services and the interface are available in 13 languages — English, Japanese, Spanish (Latin America), Spanish (Spain), German, Italian, French, Dutch, Korean, Portuguese (Brazil), Traditional Chinese, Simplified Chinese, and Russian.
Security measures
Here is a list of certifications that Ansarada has earned:
FISMA, DIACAP, FedRAMP
SOC 1/SSAE 3402
PCI DSS Level 1
ITAR
SOC2
ISO 27001
FIPS 140-2
SOC 3
Because Ansarada is hosted on the Amazon Web Services (AWS) platform, it also provides all the following features:
Secure data storage with 256-bit encryption
Specific text file encryption with management policies, which restrict printing, expiring, and tracking of documents
HTTPS/SSL encryption of all documents uploaded to the virtual data room
Also, Ansarada supports multi-factor authentication and single sign-on, offering an extra layer of protection to all user accounts and minimizing any risk of unauthorized access.