About the Merrill Datasite VDR
Merrill is a rather large and old corporation that dates back to 1967. It began its journey way before the Internet became a necessary part of our lives and switched to online when everyone did. So this provider had quite a lot of time to gather valuable experience and insights on all those small secrets that make a successful business.
Datasite virtual data room is one of the products by the company formerly known as Merrill Corporation. Initially a financial printing company, Merrill evolved into a global provider of SaaS solutions for complex dealmaking.
Merrill Corp. was established in 1968 in Minneapolis, MN. In 2020 the company rebranded into Datasite to express its focus on software development in the data processing sector. Apart from the headquarters in Minneapolis, Datasite has over 23 offices across all major regions, including South America, Europe, Asia, and Australia.
Datasite Merrill offers a complete set of instruments for streamlining mergers and acquisitions. Apart from the Datasite Diligence data room, the company developed:
Datasite Outreach – a centralized platform for compiling buyer lists and organizing deal marketing
Datasite One – cross-platform due diligence solution
Datasite Prepare – for accelerating deal preparation
Datasite Acquire – a universal space for equipped deal management
Datasite Experience – for successful internal collaboration
The collection of tools and services included in the Datasite data room is sufficient for supporting various processes during long-term financial transactions, such as M&A. Datasite users can employ artificial intelligence and decades of provider's experience to oversee and improve deal agility from initiation to post merger integration.
Datasite data room does not offer a free trial period to new users. However, most of its functionality can be demonstrated by the sales team during pre-arranged introductory presentations.
Media Gallery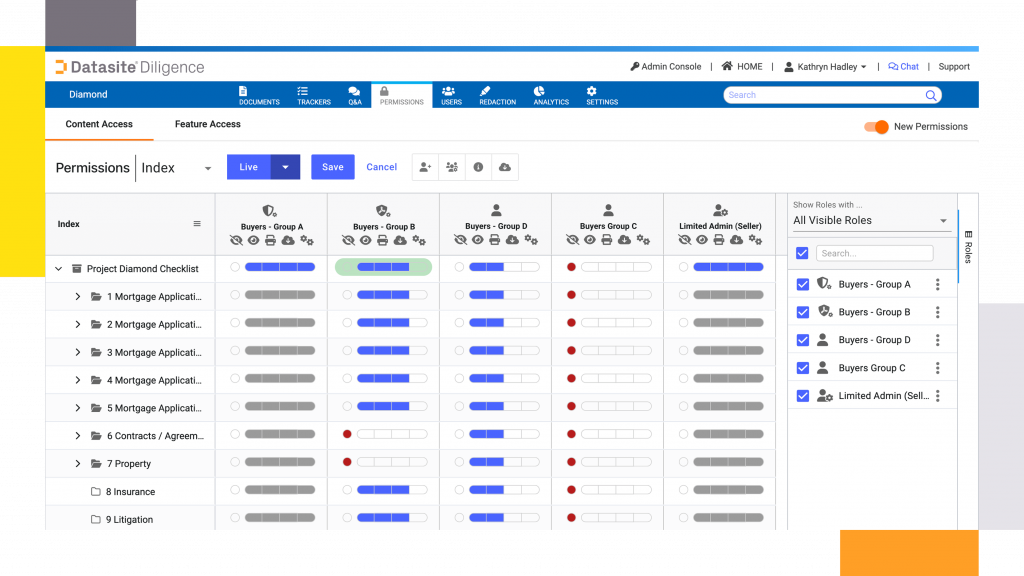 Best for
Merrill VDR focuses on delivering features and services for M&A cycles. The solutions can be implemented from all possible approaches, including buy-side, sell-side, and third-party contribution.
Merrill virtual data room has the capacity to assist in managing a business, executing outreach activities, performing and undergoing due diligence, and applying post-merger practices.
According to Datasite's client portfolio, its solutions are primarily suitable for large and enterprise-level companies. The trusted data room by Merrill is particularly beneficial for law firms, private equity firms, corporate development professionals, and investment banks.
Datasite virtual data room pros and cons
Pros
Top-standard data security practices
Advanced document management with tools like text search and optical character recognition
AI-powered report generation
Centralized solutions for executive-scale collaboration
Cons
Lack of solutions for small and medium businesses
Limited customization abilities
Reportedly intuitive interface
Higher cost than same sector competitors.
Datasite pricing and tariff plans
Datasite pricing is not publicly disclosed as the provider builds personalized quotes for each new client. The final cost will depend on the transaction type, project length, necessary features, number of people involved, and other factors.
Since the software is considered the best technology for large-scale businesses in sectors like investment banking, the Merrill Datasite pricing can be categorized in the high range.
The provider does not offer a complimentary trial period and only allows new users to familiarize themselves with the product during a free demonstration.
Merrill data room deployment and support
Merrill data room is a SaaS platform that can be accessed via an internet browser on Windows, Mac, and Linux computers without requiring additional plugins. Datasite VDR also allows users and guest visitors to remotely join the collaboration using iOS or Android mobile devices with specifically designed applications.
Merrill Datasite customer service is available to all users 24/7/365. The customer support team can be reached via a region-specific phone number, email, or chat. Due to office location diversity, Datasite representatives speak multiple languages and support users all across the globe.
Datasite security measures
Merrill data room employs sophisticated technology and tools to ensure the utmost protection of users' sensitive data.
Some of the most notable Merrill data room security features include:
Granular user access permissions
Two-factor authentication
Dynamic watermarking
AI redaction
Datasite Diligence data room's security practices are monitored and audited according to ISO 27001 and SOC 2 standards. These regulations ensure that the provider complies with the constantly growing requirements for safe data handling and does everything possible to deliver a secure service.