About Donnelley Venue
Donnelley Financial Solutions is one of the oldest financial services providers. It offers a workspace for every economy branch, category of deal, or project. Donnelley was established in Chicago in 1983.
DFIN Solutions is a fintech company providing M&A solutions and other regulatory SEC compliance software. DFIN is working on global capital and global financial markets. One of their capital market platforms is Venue.
Donnelley Venue virtual data room is popular for its adaptability worldwide and offers a suite of advanced AI features. Venue's encryption security and live human interaction in technical assistance are important features of the platform.
The provider offers SaaS products, software-enabled services (SeS), and compliance services to the financial sector, funds, and fintech companies.
DFIN started in 1983 as a print services company. In 2018 DFIN purchased eBrevia, a provider of analytics software and AI technology. In 2021 DFIN acquired a data security software provider that later evolved into Venue data room.
DFIN has 30 locations in 12 countries. They are situated in Chicago, New York, S. California, London, Dublin, Frankfurt, Paris, Luxembourg, Toronto, Beijing, Hong Kong, Tokyo, Singapore, Seoul, Madrid, Krakow, São Paulo, and Moscow.
DFIN offers software products and solutions for private equity companies, investment funds, government agencies, and startups. There are solutions for any kind of document management, from M&A due diligence to internal communication.
| | | |
| --- | --- | --- |
| Software products for corporate and advisors | Software products for investment companies | Solutions |
| ActiveDisclosure — software for financial and SEC reporting | Arc Suite — solutions for regulatory compliance | Software solutions for SPAC and de-SPAC |
| Venue — VDR and deal management | ArcDigital — digital content delivery | Tools for IPO solutions |
| eBrevia — Artificial Intelligence contract analytics | ArcFiling — creation and management of SEC filings | M&A due diligence, deal management, and post-merger integration |
| ESG — environmental, social, and governance reporting | ArcPro — shared content management | Data security and privacy solutions |
| Edgar Online — software for SEC filings analysis | ArcRegulatory — global regulatory compliance) | Investor-focused communication tools |
| File16 — equity ownership reporting software | ArcReporting — global financial reporting | Proxy for fund companies |
Venue by DFIN is focused on security, efficiency, and usability. It is powered by AI technology to speed up closing deals. Its core features are:
Seamless and secure integration. VDR sets up in no time and bulk uploads of documents are immediately available. You can upload files and folders, arrange them any way you like, and set up hierarchical user permissions based on the level of access required.
High infrastructure security. Venue ensures bank-grade document security with advanced protection features, such as multi-factor authentication, dynamic watermarking, 256-bit encryption, and burned-in redaction.
Multi-deal management tools. Venue allows managing multiple deals at once. For instance, features like default archiving allow keeping only the regularly updated projects in focus. You can set up scheduled reports to easily monitor each of them and get insightful real-time updates regularly.
Reporting and analysis. Venue offers real-time analytics on all activity in the data room. In particular, it provides dynamic statistics on any interaction with the document, the time it happened, the duration of engagement, the people involved, etc.
DFIN solutions are well-suited for various companies, from startups to corporations. However, it is most relevant for medium and large businesses.
For anyone willing to test the software before making a purchase, a free 10-day trial is available.
Media Gallery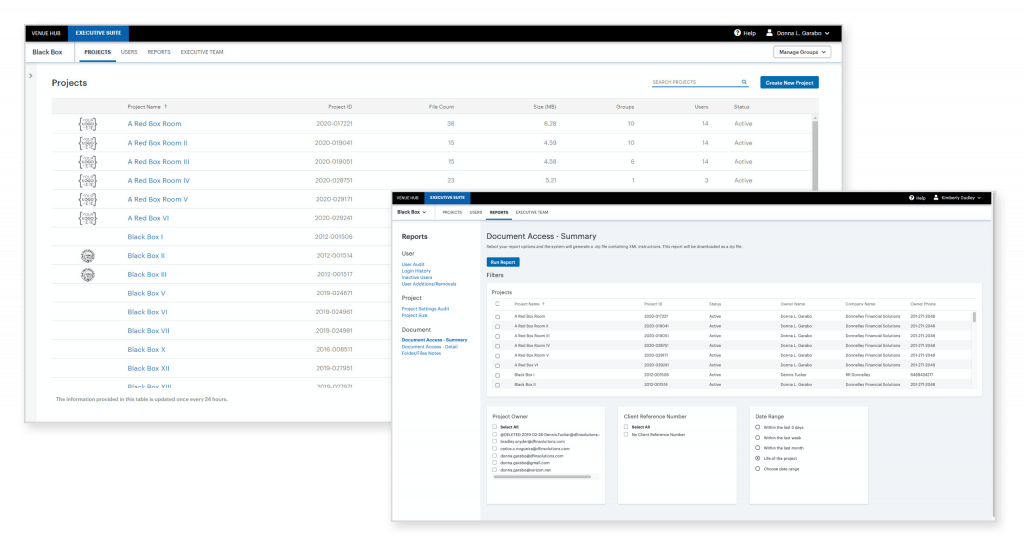 Best for
DFIN is one of the pioneers in online financial services. It provides solutions for every branch of economics, category of the deal, or project.
Investment funds, biotechnology companies, Silicon Valley startups, and government agencies are among the most typical clients of this provider. However, many of Venue's solutions are specifically designed for mergers and acquisitions, IPOs, bankruptcy, restructuring, audit reporting, and more.
Venue pros and cons
Pros
Uncomplicated setup process
AI-driven auto-redaction
Insightful analytics to analyze buyer activity
Q&A feature helping to close deals faster
Multi-factor authentication and centralized data control
Extensive brand history and decent reputation
Easy-to-use software with no IT knowledge required
Assistance from a dedicated project manager
Well-educated and trained client support
Cons
High cost and limited functionality in comparison with competitors
Limited customization capabilities
Various UX imperfections(one page can be displayed at a time, no scroll for multiple pages, no search in a document, no clickable tables)
Venue pricing and tariff plans
DFIN doesn't disclose any information on Venue pricing. There is a free demo period of 10 days to test their tools, choose features, and request information on the available packages.
Deployment and support
DFIN is a cloud-based SaaS software provider. It offers Web-based deployment for Mac, Windows, Linux, and Chromebook operating systems and mobile applications, suitable for both Android and iOS.
Donnelley customer support is available online and over the telephone via Online Support Help Center. When needed, a personal manager can be appointed to guide a client throughout their problems.
Customer support representatives are available 24/7 and assist in multiple languages, including English, German, French, and Chinese. Local centers are open in 10 countries.
Venue clients can benefit from having 5 types of training, including personal, online, webinars, documentation, and video. Therefore, everyone can choose to receive assistance in the format they need.
Security measures
Donnelley Venue VDR provides the following security standards:
SOC2 Type II auditing and reporting
ISO/IEC 27001:2013 compliance
Multi-factor authentication
256-bit encryption
Automatic watermarking
Delayed invitations
Symantec virus scanning
Easy-to-use permissions system
Highest levels of infrastructure security
High-speed and secure file transfer through the Teridions Cloud WAN service