About Onehub VDR
OneHub virtual data room provides efficient and user-friendly cloud storage solutions to promote more effective corporate productivity. OneHub is a supplier of cloud storage and data room services with over 1 million users in 140 countries. Since its inception in 2007, the company has safely stored over 4 billion files. It is headquartered in Seattle, Washington, in the United States.
As previously stated, OneHub focuses on cloud storage and VDR services, with features for:
Activity monitoring
Access control
Communication tools
Document management.
Designers concentrate on developing software that offers the best possible user experience. Energy, entertainment, finance, healthcare, legal, manufacturing, marketing, real estate, and technology are among the industries that choose OneHub data rooms.
Many security features are included in this solution, such as role-based permissions, audit trails, session timeouts, and two-factor authentication. Furthermore, this feature improves content security.
The role-based preview capability also enables you to configure user permissions and "preview" these user accounts before they become live. This ensures that they can only see what you want them to see.
OneHub also has a complex password policy in place, which helps to ensure that users' data is kept safe. Potential clients will also be taken through a 30-minute product demo by company staff, who will explain all of the features and answer any questions they may have.
Media Gallery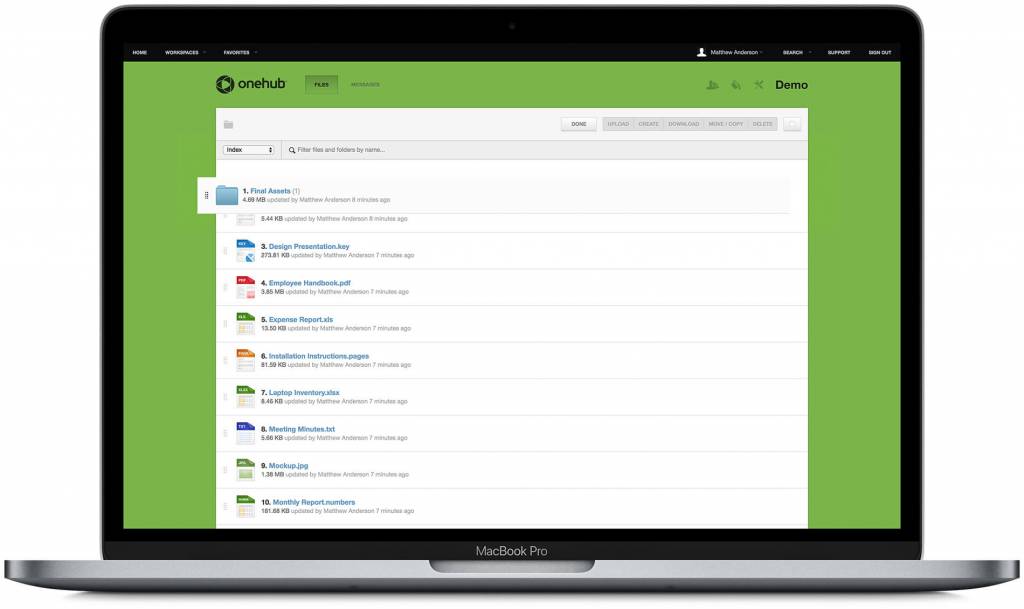 Best for
Customers who use OneHub products get a complete virtual data room experience. They have an online file repository that meets the branding and transactional needs of professionals thanks to customizable features and file-sharing capabilities.
OneHub data room software is great for handling complex transactions, including M&A due diligence. It provides all the needed functionality for efficient remote work and secure file storage.
OneHub data room solution gives users access to a variety of advanced security, file-sharing, and customization features. Because of the provider's flexible pricing plans, OneHub's remote collaboration capabilities are suited for enterprises of all sizes.
Onehub pros and cons
Pros
User-friendly interface
Affordable pricing models
Quick and easy signup
Cons
You can't view files offline
No option to tag files and documents
The interface looks old and outdated
Onehub pricing and tariff plans
OneHub's pricing model is subscription-based, meaning it's based on monthly and yearly subscriptions that range from $12.50 to $575 per month. Different plans offer varying storage capacity, number of users and workspaces, and unique features.
The OneHub data room cost structure can be divided into four different pricing plans. All plans are available to be billed both on monthly or annual terms:
Standard: $12.50 per month/per user, billed annually. You get 200 users, 50 workspaces, and 1TB of online storage
Advanced: $20 per month/per user, billed annually — 1000 users, 200 workspaces, and unlimited cloud storage
Data Room Edition: $300 per month, billed annually. You receive 1000 users, 200 workspaces, unlimited storage, watermarking, and a slew of other important, convenient features.
Unlimited Edition: $500 per month, billed annually — unlimited users, workspaces, and storage capacity, plus additional features you might need.
Deployment and support
The virtual data room from OneHub is accessible as a web-based program for Windows and Linux, as well as a mobile app for Android and iOS.
OneHub also supports a variety of integrations, including DocuSign, Office Online, Google Services, and others.
OneHub's website has all the needed resources to help you better understand their service and the answers to frequently asked questions. The provider maintains a knowledge base with details on the service's functionality, integrations, and other frequently asked questions, some of which are accompanied by video tutorials for better comprehension.
OneHub's support team is also available to answer any extra queries you may have, and Data Room and Unlimited edition users have access to phone assistance 24/7. It can be reached via a US phone number or by submitting a support request on the provider's website. Further communication is supported by email and live chat — during the team's regular business hours.
Security measures
In all of its virtual data rooms, the company claims to apply bank-level security practices, such as 256-bit encryption, high-level system redundancy, and SSL.
Moreover, OneHub data rooms provide proof of top security by showing certifications and compliance with international security regulations, including:
GDPR
HIPAA
SSAE 16
PCI DSS Level 1
Users can utilize two-factor authentication and difficult passwords to improve account security. Administrators can utilize settings to force users to change their passwords on a regular basis; this strategy can even assist secure accounts that have been compromised.
The document security layer can be changed. Moderators, downloaders, viewers, and various other roles can be assigned using the role-based permissions functionality. To assist in secure data, OneHub uses industry best practices and features like:
Dynamic watermarking
Automatic file destruction
Mandatory agreements before accessing a file
All user and admin activity, including views, downloads, and document printing, is tracked by the platform's comprehensive tracking system. Information from the tracking system is delivered in detailed sheets with timestamps and user statistics.