About iDeals VDR
iDeals Solutions is a US-based company that provides the top virtual data room (VDR) experience on the market.
iDeals was founded in 2008, and professionals from about 120,000 companies have since chosen it to simplify the confidential document-sharing process and corporate deal management.
The mission of the iDeals software is to provide an exceptional experience and help businesses close deals successfully.
Virtual data room software is the main and only product iDeals Solutions offers.
The iDeals data room makes it easy for potential customers to decide on their services by providing a 30-day free trial period that allows you to test all the required features and functionality. This offer also includes complimentary training, a live one-on-one demo session with an expert, setup assistance, and round-the-clock support.
Media Gallery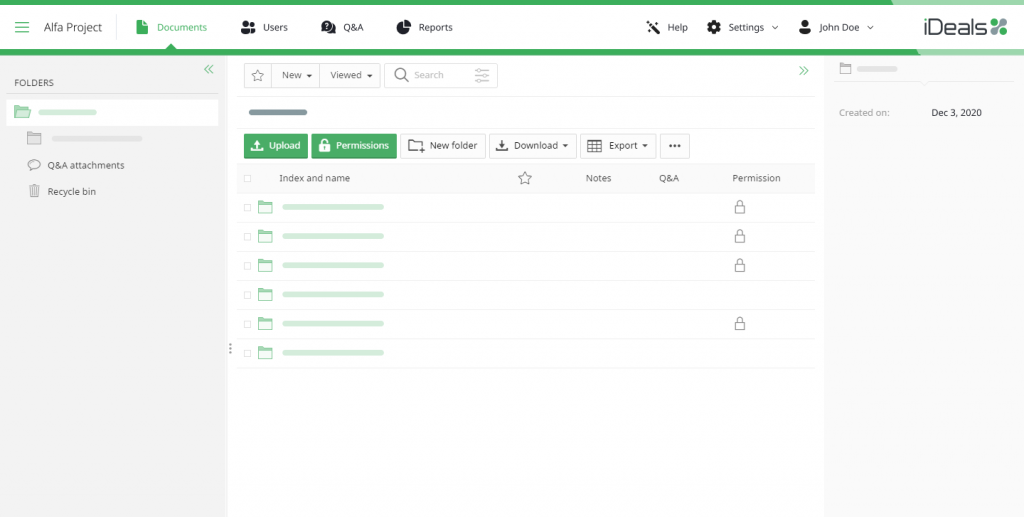 Best for
The iDeals virtual data room provider perfectly fits the needs of businesses of all types and industries — startups, medium organizations, enterprises, and even freelancers.

It caters the best to investment banks, law firms, private equity firms, and other large corporations.
The top use cases of the iDeals VDR are:
Due diligence
Life sciences
Board communications
Bankruptcy and restructuring
Mergers and acquisitions
Real estate management
Investment banking
Fundraising
iDeals pros and cons
Pros
View as mode. This feature enables you to see certain documents and folders from the user's perspective and make sure you set access rights correctly.
Ease of use. Users praise iDeals' intuitive interface and claim it's the easiest to use virtual data room in the market. It has a simple interface, user-friendly mobile apps for iOS and Android, and offers the single sign-on feature. The initial setup is easy and quick, and no extra plugins are required.
Customization. You can adjust your virtual data room to your brand. Customize watermarks, logo, theme colors, header and footer, terms of access, and invitation email. You can also enable auto-translation of the data room index to 90 languages.
Audit and reporting. Monitor every action performed inside your data room and get detailed user analytics and audit trails. All the data can also be transformed into a color-coded report.
Effortless user management. It's easy to add users to a virtual data room thanks to the bulk invitations. You can also set up certain user permissions and enable them to get prompt notifications about uploaded and deleted documents.
Easy document management. iDeals improves data management thanks to such features as drag-n-drop and bulk upload, automatic index numbering, full-text search, optical character recognition (OCR), Windows Explorer integration, and the ability to upload files in 25+ formats.
High-level data security. iDeals offers numerous services to protect the corporate and sensitive information you share in the virtual data room. Not many competitors can offer comparable product features.
Effective collaboration. You can collaborate with the parties involved in the deal right inside the VDR, thanks to the dedicated in-built Q&A module.
Knowledgeable and helpful support team. The support team of iDeals speaks 12 languages and is available round-the-clock. You can reach them via phone, email, and live chat.
Speed and availability. iDeals has the industry's leading 99.95% uptime.
Cons
Unclear pricing details. Though iDeals provides detailed information about what's included in each of the three available subscription plans, their cost is unclear until you reach the support or sales team.
Difficulties when moving documents to a different folder. This is one of the very few user standpoint cons — some report complexity of the process.
iDeals pricing
iDeals offers its customers a flexible pricing model. There are three subscription plans with different functions and rights included. The cost of each plan depends on the storage capacity and the number of projects, users, and administrators.
The exact cost for each plan isn't specified on the website, so you need to contact support or sales to get more pricing details. However, customers don't mention any competitive pricing cons of iDeals.
| | | |
| --- | --- | --- |
| Pro | Business | Enterprise |
| Projects: one | Projects: unlimited | Projects: unlimited |
| Administrators: five | Administrators: unlimited | Administrators: unlimited |
| Users: unlimited | Users: unlimited | Users: unlimited |
| Storage: 10 GB | Storage: 250 GB | Storage: 1 TB |

Small or mid-sized companies would prefer the Pro plan, while large corporations and enterprises would benefit from Business and Enterprise plans more.
Deployment and support
Virtual data room iDeals is a SaaS product, which means it's a web-based platform that doesn't require any extra software or applications to be installed.
You can reach and manage virtual data rooms on any computer and browser. iDeals perfectly operates on macOS, Windows, and Linux.
There's also a responsive mobile application for iOS and Android which allows you to work with sensitive data effortlessly, even on the go.
When it comes to customer support, iDeals is a leading virtual data room provider in the industry.
You can get assistance 24/7/365 and in 12 languages. The support team speaks:
English
Spanish
German
Turkish
Russian
Chinese
Japanese
French
Italian
Dutch
Polish
Portuguese
There are several ways of contact: Email, Phone, Live chat, and Personal manager.
The estimated chat response time is 30 sec, while emails are answered in about 15 minutes. Such a high-class service makes iDeals stand out among key competitors.
You can also check out the online Help Center with complete support documentation and video tutorials.
Security measures
iDeals puts clients' business security as the top priority and ensures secure document sharing with the help of numerous features. Let's describe the main ones.
Data protection features
Watermark settings. This enables you to put identifiable watermarks that will automatically appear on top of your documents every time they're viewed, downloaded, or printed.
Fence view. The fence view feature allows covering certain sensitive content with a sliding barred screen.
Secure spreadsheet viewer. Thanks to this feature, you can safely work with Excel files in an original format without transferring them into PDF.
Redaction. With this feature, you can protect your personally identifiable information. Simply redact an image, text, or certain areas of the document, and virtual data room users won't be able to view it.
Remote shred. You can revoke document access rights even after it was downloaded.
Security access features
Granular document permissions. The virtual data room administrator can manage and restrict access to certain documents by setting user permissions. You decide who can view, download, and print your files based on a user's role in ongoing transactions and projects.
Time and IP restriction. You can restrict access to your documentation from particular IP addresses.
Access control and expiration. Set up your own security policies towards password strength and enhance your data protection. You can also configure the expiration dates to each file, enabling users to view a particular document only till that date.
Two-factor authentication. Enable virtual data room users to enter a confirmation code every time they log in to your protected repository.
Mobile device management. You can manage the security measures and features for mobile usage of your virtual data room.
Certificates and compliance
ISO27001 certification. It ensures the company maintains the best practices to verify your data stays secured and protected.
SOC 1 and 2 compliance. It means the company takes care of your personal data and provides a high level of privacy.
GDPR compliance. It means iDeals don't store any private information about you, and you can always ask the company about what exactly is stored and get a timely and detailed answer.
HIPAA compliance. It ensures that all the healthcare information you share via the iDeals data room is securely protected.
Extra security measures
Multiple data centers. It guarantees a high level of data security on a physical level. iDeals uses multiple data centers which employ biometrical entry authentication technologies.
Multi-layered data encryption. All the corporate data you share via the iDeals VDR is protected by 256-bit encryption.
Reporting. You can monitor all the users' activity by getting detailed reports on what actions were taken inside your VDR. Track who, when, and where accesses your documents on a page-by-page basis and react proactively.